The digital world is constantly evolving and there is a lot of out of date information which can be confusing. In a recent interview a candidate spoke to me about broad match modifier being their favourite match type – a feature that Google retired 2 years ago!
In a move to add to the useful side of the web, here's 5 tips on top tips on how to get the most out of your Google Ads accounts (that's relevant in 2023!)
1. Solid account structure (aka use our fool proof spreadsheet)
Set yourself up for success from the get-go. We build all our campaigns offline in a spreadsheet that lets us determine the best structure to drive the highest relevancy possible. Not only is it useful for seeing everything all in one place, but it can also be sent over to the client for review with the click of a button. Taking the time to build out in this granular way lets us get under the skin of our client's services, thus improving our account management in the long run. Putting the effort in at the beginning pays off in the long run.
The more experienced of you might know Ads Editor. A fantastic tool that is a bit like marmite. Personally, I love it! It's an excellent way to make large scale changes with speed and ease that would otherwise take age within the account itself.
(If you'd like a copy, just chat to us!)
2. Know your goal
I.e. use the right bid strategy for you. It might sound simple but can often be over-looked.
Don't look to implement a bid strategy until you have the minimum requirement of conversions, if this isn't you then sick to a manual CPC approach – you'll see better outcomes.
If you are hitting a minimum of 30 conversions in 30 days (ideally more) then get yourself on a smart bidding strategy that suits your business goals best. Generally:
Increase sales/leads: maximise conversions/Target CPA
Increase profit: Maximise conversion value/Target ROAS
The more data you have, the more effective the strategy will be!
3. Separate by match type
As best practice we ALWAYS separate our campaigns by match type (Exact and Phrase) due to the general differences in performance. Separating at campaign levels gives you ultimate control over budgets and bid strategies, resulting in better overall performance for clients.
Although I'm not one to promote broad match necessarily, we have seen success on a well-established client launching in broad match on a bid strategy. Always worth testing! Here's an example of how we've seen it work well for an established client: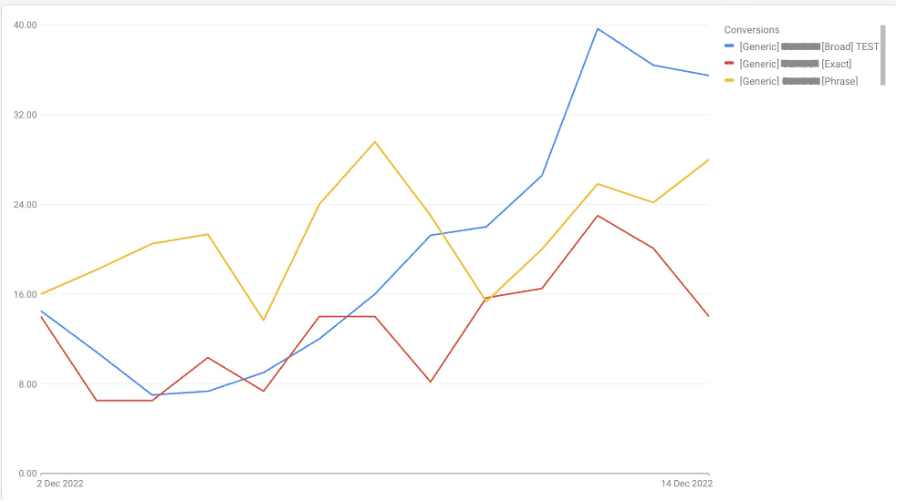 Conversion rate is strongest out all three match types
CPAs are lower than Exact & Phrase campaigns
Able to utilise new search terms coming through to build out existing campaigns further
4. Day to Day Hygiene
It might sound dull but your average daily hygiene tasks really do make a difference to performance.
If you're not visiting the search terms reports you're not doing your job! Get that filter on for Added/Excluded: 'None' and get to work. With the diversification of the Exact match type, it's all too easy to fall into the trap of spending on irrelevant keywords that you haven't physically added into your account.
Again, we have another useful spreadsheet for this (can you tell we're obsessed) but to give you a quick overview, here's some other things you should be working on.
| | | |
| --- | --- | --- |
| Task | Detail | Frequency |
| Ad copy status review | Review ad status e.g. poor, average, good, excellent. Add label to those that are anything less than excellent and improve. Review search terms coming through these ad groups to understand what people are actually searching to make ads as relevant as possible. | Weekly |
| USP review | Review USPs in high traffic ad groups . Speak to clients about other USPs that could be utilised. Look at competitors to see what they are advertising on and ensure our ads stand out on the page. Don't be afraid to implement a test and learn process. | Monthly |
| Target CPA/ROAS review (if using) | On a weekly basis review actual CPAs hit vs the expected targets at campaign and ad group levels. Ensure you look at multiple time periods and make incremental changes only. | Weekly |
| Extensions | Review extensions in the account. Every 2 weeks choose a campaign to review the extensions in and update with relevant copy/products/USPs. | Biweekly |
| Audience Performance Review | Look at the impact audiences in observation mode are having on CTR and CVRs. Research new audiences to overlay or test audiences in targeting mode. Aim to have 85% of impressions hitting some kind of audience. | Monthly |
Sometimes, there just are no shortcuts and hard work gets rewarded.
5. Simple approach can often be the best.
Don't be afraid of using a SKAG. In PPC, a SKAG refers to a Single Keyword Ad Group. Some say it's an 'old fashioned' way of managing search campaigns, because it requires a lot more work and restrict Googles algorithmic learning via the millions of search variations that exist.

We disagree. SKAG's allow you the greatest control over the user's journey, from the keyword targeted, to the ad shown to the page landed on.
We put a lot of effort into building out SKAG's for top driving keywords, and it pays off every time. It's the opposite of leaving the account to the Google gods to run, but the epitome of why PPC is such a profitable marketing channel. We give the searcher exactly what they're looking for, which ensures the highest chance of conversion.
Extra special for luck 6. Spellcheck Tool
Need I say anymore. Spellcheck is a friend not foe as Kat Sale can attest! Obviously, there's many more aspects that I could go on about, experiments, effective budget management and landing page importance to name but a few but give the above ago and let us know how you get on.